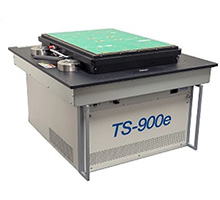 mmWave / 5G PXIe Production Test Systems
mmWave Device Production Test and Characterization
DC, Parametric and RF Test Capabilities
PXIe and LXI RF Instrument Options
Supports Up to 24 RF Ports for Multi-site Testing
53 GHz Signal Delivery to the Device Under Test
Compatible Receiver for Wafer Probers and Device Handlers
Comprehensive ICEasy Semiconductor Test Suite
Intuitive ATEasy® - Integrated Test Executive / Development Environment
Description
The TS-900e-5G mmWave test systems deliver proven performance up to 53 GHz.
Two system configurations are available. The TS-900e-5G incorporates laboratory grade PXIe RF instrumentation with a high performance receiver interface for packaged or wafer test / characterization of mmWave devices and the TS-900eX-5G provides users the option to configure the system with LXI or PXIe RF instrumentation.
In addition, MTS offers a full suite of digital and parametric test capabilities as well as SPI/I2C interface support for controlling / monitoring the device under test (DUT).
Both systems offer a total of 20 PXI / PXIe peripheral slots which can accommodate additional digital and analog test resources.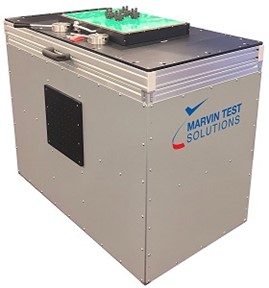 Description
Both systems are compatible with prober and automated device handlers and utilize the same receiver interface, providing device interface board (DIB) compatibility between the two systems.
The receiver interface is compatible with the Opus 3 and TEL probe stations as well as the Seiko Epson E8040 & E8080 device handlers.
The TS-900e-5G is available with the Reid-Ashman OM-1069 manipulator and the TS-900eX-5G system is available with an inTest manipulator.
The systems include a PXIe chassis with 64 dynamic digital I/O channels, 64 static digital I/O channels, a user programmable power supply, a system self-test and fixture.
Additional PXIe slots are available for adding RF instrumentation, more digital and analog test resources as needed.
System software includes DIOEasy for digital waveform editing / display, ICEasy for device test development, and Marvin Test Solutions' ATEasy which provides an integrated and complete test executive and test development environment, allowing users to quickly develop and easily maintain test applications.
Features
Both systems can be configured with up to 256 dynamic digital channels.
The digital subsystem uses the GX5295 - a 3U PXI, 32 channel, 100 MHz digital I/O card with per channel parametric measurement units (PMUs).
A wide range of digital and analog instrument options can easily be incorporated into the TS-900e-5G systems for supporting both functional and DC parametric test capabilities.
RF instrumentation options include the Keysight M9807 / M9808 PXIe VNA or the Rohde and Schwarz ZNBT40 LXI instruments.
TS-900e-5G Series Core System Configuration
The core system components include the following test resources and capabilities:
ICEasy test software development tools
ATEasy test executive and programming environment
GX3104 SMU with 4 channels each (expandable to 16)
DIOEasy digital waveform editing and display tools
Embedded i7, quad core controller with Windows®10 OS
(64) 100 MHz digital channels with per pin PMU (expandable to 256)
(64) static digital channels (expandable to 128), which can be used for fixture ID, UUT static control or DUT board relay contro
21-slot, high-power PXI Express chassis
Pogo pin, blind-mate receiver interface with 24, 53 GHz RF ports (TS-900eX-5G)
Pogo pin, blind-mate receiver interface with 20, 53 GHz RF ports (TS-900e-5G)
The systems are also available with digital vector conversion tools that support ASCII, WGL, STIL, VCD, eVCD and ATP vector formats (DIOEasy-FIT).
Software
The test systems are supplied with ATEasy - Test development and executive software. It comes with a pre-configured software that includes instrument drivers, virtual instrument panels, a system self-test and ICEasy test software tools which facilitates device test development and characterization.
Applications
mmWave packaged and wafer device test / characterization
Pilot production and focused production test
Automated failure analysis and test
For more details & consultation about this product, leave your details below