PXI Semiconductor Test System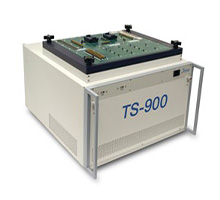 Description
The TS-900 PXI Semiconductor Test System is an integrated test platform that offers comparable system features and capabilities found in proprietary ATE systems. Available as a bench top, with an integrated cart, or with an integrated manipulator, the TS-900 takes full advantage of the PXI architecture to achieve a cost-effective and full-featured test solution for device, SoC and SiP test applications. The test system incorporates a custom-designed, performance test interface that supports the use of PCB DUT (Device Under Test) boards - a proven and high-performance method for interfacing to the device under test. Additionally, the receiver interface's pin blocks are field configurable, allowing users to upgrade the receiver when they modify or upgrade the system for new applications. The configuration of the receiver can support up to 512 dynamic digital channels, as well as a range of analog, power supply and RF resources.
The basic system includes 64, digital I/O channels; 64 static digital I/O channels; a programmable user power supply; a system self-test and fixture; DIOEasy software for digital waveform editing / display, ICEasy - device test development tools, and Marvin Test Solutions' ATEasy software which provides an integrated and complete test executive and test development environment, allowing users to quickly develop and easily maintain test applications. With an additional 14 PXI slots available for adding more digital or analog test resources as needed, the TS-900 is the ideal test solution for semiconductor OEMs, fabless semiconductor vendors, incoming inspection / counterfeit detection labs and packaging / test vendors needing a low cost, configurable test system.
For production test applications requiring integration with an automated handler, the TS-900 is available with the Reid - Ashman OM1069 manipulator which provides precise positioning of the test head and the flexibility to interface to automated probers and device handlers. The manipulator's spring loaded design allows for easy alignment and docking to handlers - eliminating the need for a complex receiver interface. The TS-900M features a handler compatible slide receiver, which offers the flexibility to interface to virtually any device handler. In addition, fixture compatibility is maintained with the TS-900's bench top receiver configuration, allowing users to interchange load boards between the screw down and slide receiver configurations.
Features
The TS-900 can be configured with up to 512 dynamic digital channels. The base TS-900 platform uses the GX5295 - a 3U PXI, 32 channel, 100 MHz digital I/O card with per channel PMUs. A wide range of digital and analog instrument options can easily be incorporated into the TS-900, offering users a compact test system that can support both functional and DC parametric test capabilities. And with the incorporation of an integral, modular test interface, the TS-900 offers users an application ready test system which can be upgraded or reconfigured in the field if needed. The system is also supplied with various software development and digital vector conversion tools, including support for ASCII, WGL, STIL, VCD and ATP vector formats.
TS-900 Core System Configuration
The TS-960e core system includes the following test resources and capabilities:
20-slot, high-power (60 watts per slot) PXI chassis with integral receiver interface
Embedded Core 2 Duo controller with Windows 7
64 100 MHz digital channels with per pin PMU (expandable to 512)
64 static digital channels (expandable to 128), which can be used for fixture ID, UUT static control or DUT board relay control
Programmable, 4 channel +/- 20 V user power supply
System self-test fixture and test program
ATEasy test executive and programming environment
DIOEasy digital waveform editing and display tool
ICEasy test software development tools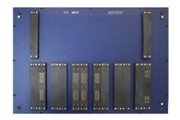 Receiver Interface
The TS-900 platform employs a modular, pogo-pin style receiver interface which consists of various pin blocks and is field re-configurable. Interfacing to the device under test (DUT) is done via a device specific PCB which mates to the pogo pin interface and is held in position with an integral stiffener / hold-down assembly. The hold down assembly employs a screw down mechanism for bench top configurations or a slide receiver mechanism for interfacing to handlers. Both mechanisms employ the same stiffener assembly, allowing users to interchange PCB load boards between the two types of mechanisms.
For digital interfacing, the receiver employs dual, 68-pin block assemblies which connect directly to the TS-900's PXI digital instrument resources, providing a high performance, controlled impedance interface. For user power connections, a power block is available which supports up to (4) user power suppliers and for general purpose analog and switching applications, a 78 pin block assembly with mating D-sub connector is available. RF and coaxial connections can be accommodated via an 8 connector, SMA block or blind-mate RF connector blocks. All receiver block positions are interchangeable, offering a high degree of flexibility.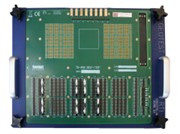 System Selft-Test
The TS-900 is supplied with a system self test which includes an interactive self-test software procedure as well as a self-test PCB which interfaces to the receiver. The self-test is an ATEasy based test program and verifies functional integrity of the system and resource connections to the test system interface.
Software
The TS-900 is supplied with ATEasy, Marvin Test Solutions' test development and test executive software suite; DIOEasy - a comprehensive digital test tool set for developing, debugging and importing digital test vectors; ICEasy - a library of device test development tools; and all necessary instrument drivers which are compatible with variety of application development environments including ATEasy, LabWindows, LabVIEW, Microsoft Visual Studio languages and more.
The TS-900 ATEasy work space is provided with a pre-configured ATEasy System file and associated instrument drivers. It also provides access to DIOEasy and ICEasy tools, which provide the following capabilities:
Pin and pin group mapping
Virtual instrument drivers - providing digital subsystem and instrument independent test programs
IV Curve plotting tool
Shmoo plot tool
Pre-defined parametric and functional tests
Self test source code
Predefined test examples
Import tools supporting WGL, STIL, VCD and EVCD file formats using the optional DIOEasy-FIT option

Automated DC Parametric Test Creation
ICEasy's library includes a full set of test capabilities for characterizing a device's input and output DC characteristics. Utilizing the TS-900's PMU per pin capabilities, users are able to quickly create test programs for the following types of tests:
Open and Shorts
Input Leakage (IIL, IIH)
Input Voltage Threshold (VIH, VIL)
Output Short Circuit (IOSH, IOSL)
Output Voltage Threshold (VOH, VOL)
Power Consumption (IDD, IDDQ)

I-V Curve Tool
ICEasy's Current - Voltage (I-V) curve tool offers users the ability to graphically plot the I-V characteristics of a device's ESD diodes.
This test method can provide insight into device failure mechanisms that can affect a device's I/O pins, such as electrical overstress (EOS), electrostatic discharge (ESD), bond wire problems, and packaging problems.
And more recently, the use of I-V curve plots as an "impedance signature" may be useful in identifying counterfeit devices where the impedance or I-V signature of a known genuine part is compared to a suspect part.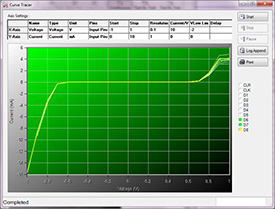 Shmoo Plot Tool
ICEasy's Shmoo plot tool allows users to easily vary test parameters on both the X and Y axis without programming - allowing test engineers to visually observe the pass / fail operating ranges of the device under test.
An accepted test methodology for device characterization and qualification, the addition of the Shmoo plot feature to the TS-900 platform provides users with a powerful technique for design verification and early production test qualification.
Supporting both automated and interactive control, ICEasy's Shmoo tool allows users to change parameters on the fly or to control the test via the TS-900's test manager (ATEasy) as well as logging the resulting data.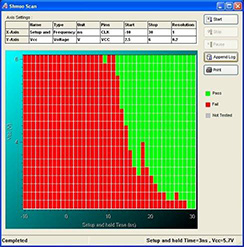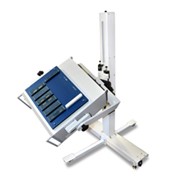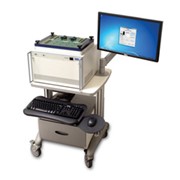 Applications
Design verification for devices and modules
Pilot production and focused production test
Automated failure analysis and test
Counterfeit device detection
For more details & consultation about this product, leave your details below