ATS Engineering develops test programs for many kinds of devices on various test equipment as per Customers' requirements.
Within that scope, we  provide the  hardware design and manufacturing of the load boards and other required interfaces. 
ATS Engineering offers its customers Turnkey solutions from RTL to final goods.
---
Our services include:
Test Program Development on various test equipment
Hardware development and manufacturing
Device Characterization
Transfer to production sites of the final test program and ramp-up
Pre-Production Testing
   - Automatic Final Testing of packaged devices (on-site)
Wafer Sort
      - Design and manufacture of probe cards
- Wafer sort services (Turnkey service)
Device up-screening Testing – per customer demand a product can be prepared for consumer
or industrial use but tested and qualified for military application.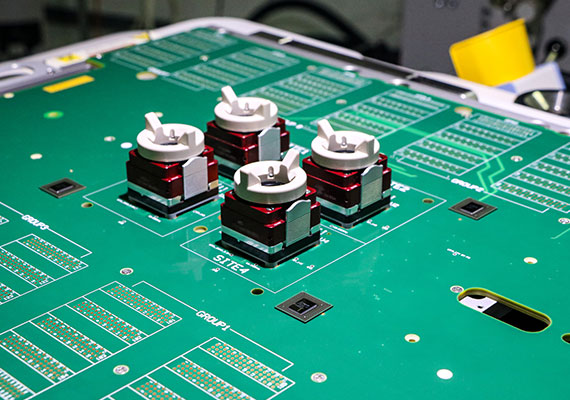 ---
PRE-PRODUCTION SERVICES
The ATS Engineering facility in Migdal HaEmek meets OEM customer needs for a well-equipped testing facility in the proximity of a few hours drive. Our clean room & sophisticated VLSI testers, handler, as well as an on-site laboratory provide Reliability and Failure Analysis services and associated testing results.
 In addition, the company is capable to submit pre-production test and production test for large variety of devices.